What are the differences between "sci-fi, fantasy, and horror film music" and music from other film genres? The answers might surprise you.
INSTRUMENTATION AND ORCHESTRATION
WHAT MAKES MONSTER MUSIC SPECIAL?
THE STYLE OF "MONSTROUS" MUSIC
The argument that science fiction and horror music "sounds" different from other film music can be easily disproved by the fact that the same cues have been used in both monster and non-monster movies.
As fans of our Monstrous Movie Music series know, a lot of the music that is so indelibly linked to the monsters they love is, in fact, equally indelibly linked to other visuals as well. Herman Stein's powerful "Main Title" (click on audio link) from Universal's 1955 Tarantula perfectly conjures the menace of a colossal arachnid running loose in the desert. Except for one thing. The piece was originally written in 1952, where it served as the "Main Title" for Universal's Rock Hudson western, The Lawless Breed. This process of "tracking" -- re-using cues from the studio's music library in subsequent pictures -- shows that what makes something sound "monstrous" is often merely in the ear of the beholder.
When that same Tarantula causes a landslide and John Agar returns to investigate the site, a spooky sci-fi motif plays on piano in a cue written by Henry Mancini. What inspired Mancini to come up with this piece that perfectly evokes the mysteriousness of the situation? The 1955 Dana Andrews/Piper Laurie western Smoke Signal, for which he originally wrote this Indian-inspired cue known as "Down River."
One final example from Tarantula occurs when the creepy critter approaches Professor Deemer's house. This Herman Stein cue perfectly enhances this scary scene. But the cue's title -- "Great Truck Robbery, Part 1" -- is a dead giveaway that it wasn't written for this monster picture. This marvelous suspense cue was originally composed for Universal's Tony Curtis crime drama Six Bridges To Cross.
Universal-International wasn't the only studio to re-use their non-monster cues in monster movies. Some of the music written for Warner Brothers' The Beast From 20,000 Fathoms came from both Chain Lightning and the 1950 Robert Wise soap opera, Three Secrets, and that Bronislau Kaper's score for that studio's Them! had some music derived from the 1942 Tracy/Hepburn film, Keeper Of The Flame. The Main Title from Columbia's Earth vs. The Flying Saucers was a slowed-down version of "Trial And Escape," a Daniele Amfitheatrof cue written for that studio's classic 1942 political comedy Talk Of The Town, starring Cary Grant, Jean Arthur, and Ronald Colman. More examples include Stravinsky's ballet music from "The Rite Of Spring," which was later used to depict dinosaurs in Disney's Fantasia, "Also Sprach Zarathustra," which is inextricably linked to 2001: A Space Odyssey, and some of Jerry Goldsmith's cues from Freud, which were re-used in Alien.
Not only did western, crime, and political comedy music function perfectly well in monster movies. It also worked the other way around. Herman Stein's classic sci-fi cue "Visitors From Space," from Universal's It Came From Outer Space, later appeared in a life raft scene in the Jeff Chandler tearjerker Stranger In My Arms. Bits of music originally composed for The Deadly Mantis, This Island Earth, and The Monolith Monsters were all stitched together to become the Main Title of the 1961 western, Posse From Hell.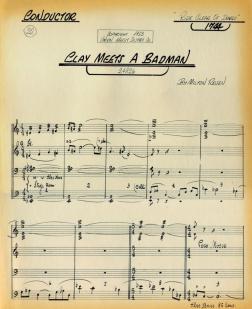 The reason music from one movie genre can be successfully re-used in another is because there really isn't much of a difference between various "types" of film music. Divorced from the visual, it's often impossible to guess what genre of film a particular cue was written for. While some film composers won't admit it, a cue they've written for a specific situation might not work any better than music they've written for another sequence in a completely different picture. A chase in a film noir can often be inserted into a western chase or a horror chase and nobody would be any the wiser. Irving Gertz's masterful "Eskimos Attacked" from The Deadly Mantis was later used when the dam is blown up in The Monolith Monsters, and after that it augmented a scene where a car speeds toward a caveman in Monster On The Campus. It's not as difficult for music to "fit" a scene as you might think, because as different as these three action-filled visuals are, in the hands of a good piece of action music, they can all sound the same.
Of course, not all cues can be re-used in any scene, even if the scenes are similar. If a musical cue had quirky instrumentation to it, like honking woodwinds resembling geese, chances are it wouldn't get used again unless the studio had a successful goose series. As beautiful a cue as Frederick Hollander's "Heaven" is, it was rarely re-used by Columbia after it was composed for Here Comes Mr. Jordan, as its "celestial" feeling made it unsuitable for most of that studio's pictures. One exception was when it was adapted as part of the Main Title for 20 Million Miles To Earth, to be heard on our forthcoming MIGHTY JOE YOUNG CD.
Nothing Special About Musical Recycling
It shouldn't be surprising that studios re-used music from one genre to another, as music departments weren't the only departments recycling preexisting material. In addition to the music libraries, studios had their own stock footage and sound effects libraries, and they re-used these same resources across a wide range of pictures. The Beast From 20,000 Fathoms opens with a great optical whirlpool effect, an effect that Warner Brothers had already used a number of previous times, including a flashback scene from their 1950 melodrama Three Secrets. Explosions in Universal's Audie Murphy biography To Hell And Back looked suspiciously similar to ones the studio used in This Island Earth, because they were manufactured by the same special effects team. Republic's gunshots and Warner Brothers' thunder sound effects were recognizable no matter what genre of film they were used from, and some of the same stock footage and sound effects were used by more than one studio, as some source material was made available to more than one production outfit.