MIGHTY JOE YOUNG (and other Ray Harryhausen animation classics) [MMM-1953] is a spectacular release contains world-premiere music from three legendary monster movies brought to life by the extraordinary stop-motion genius Ray Harryhausen.
The CD begins with a 35-minute suite from the wonderful 1949 fantasy, Mighty Joe Young, about a giant African gorilla who arrives in the U. S. to become a box-office sensation. The rousing King Kong-inspired score by Roy Webb is filled with exotic African underscore, stunning action cues, fanfares galore, exhilarating nightclub jazz music, and outrageous orchestration, and the amazing music will have you thumping your chest like a gigantic irate ape!
And there's even some room for the occasional love theme and creative uses of Stephen Foster's "Beautiful Dreamer." There's never been a monster movie score quite like this one, and the amazing music will have you thumping your chest like a gigantic irate ape! As a bonus, this suite contains a "special guest musical appearance" by Ray Harryhausen himself!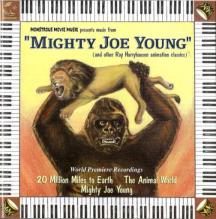 Next comes a 21-minute suite from one of the greatest invader-from-space films, Harryhausen's beloved 1957 20 Million Miles to Earth. This tale of a Venusian dinosaur running amok in Italy is bolstered by an incredibly-varied score, courtesy of Columbia's music library. Legendary composers like Max Steiner, Frederick Hollaender, George Duning, David Raksin, Werner Heymann, David Diamond, Daniele Amfitheatrof, and others contribute cues from a wide variety of previous films -- crime dramas, westerns, comedies, romances, and more -- resulting in a wealth of musical material. Adding to the score are Columbia music director Mischa Bakaleinikoff's superb original compositions, which conjure the alien nature of the Harryhausen-animated Ymir, the beautiful Italian scenery, and the anger of an interplanetary beast who just wants to be left alone!
Finally, there's a four-minute suite from what was long considered to be the Holy Grail of Harryhausen films: The Animal World. This 1956 documentary by Irwin Allen starred vivaciously-animated dinosaurs by Ray, and Paul Sawtell's pulse-pounding music recreates the prehistoric thrills as Ceratosauri attack everything in sight! Sawtell's monstrously-potent dramatic music is is sure to get your blood boiling, even if you're a cold-blooded dinosaur!
The CD has been vividly recorded through close-miking techniques to recapture the dynamic full-orchestral sound heard at the original Hollywood scoring sessions. The state-of-the-art 40-page liner book features striking cover art by Robert Aragon, comes with never -before-released photos, copies of music manuscripts, and 21,000 words of text about the films, their scores, and the composers who wrote them. Not to mention enough humor to get you from here to Venus, which is usually much farther from the Earth than 20 million miles.
The liner book text includes timings that match the digital read-out on your CD player -- so you can follow along with the music while you read. You'll become an expert on monster music faster than you can ask, "So then why'd they name the film 20 Million Miles to Earth?"