One of the least appreciated elements of motion pictures is the soundtrack. It sometimes seems as if people only notice music in a movie when the background music isn't really in the background at all, such as when the score is mostly composed of songs (The Graduate, Saturday Night Fever), or when there's a famous song used in the title (Stand By Me, Three Coins in the Fountain). Having been friends with quite a few Hollywood actors and actresses over the years, I can state unequivocally that most of them seem blissfully unaware that there was any music in their movies, and they appear quite happy believing that whenever an audience felt joy, sadness, or fear in one of their pictures, it was mainly due to the acting, writing, or directing; they had no idea how much the background music had to do with the audience's reaction.
If you doubt the importance of background music in the movies, imagine Star Wars or the original King Kong without John Williams' or Max Steiner's all-encompassing sonic contributions. While underscore often calls attention to itself during action sequences, or when novel orchestration is used, most of the time, music lurks subtly in the background, serving as an emotional subtext to what's on-screen, providing dramatic support to the acting, writing, and directing. Music can also help reveal what characters are thinking as well as to provide other insights into the drama.
In lower-budget movies, music is sometimes even more important, as a superb score can help make up for other deficiencies in the production, such as substandard performances, a lack of visual scope, messy editing, and so on. While it's been said that good music never saved a bad picture, music has made many bad pictures more enjoyable to watch, and many times it has turned good pictures into great ones and great ones into absolute classics. Would legendary movies like The Day the Earth Stood Still or To Kill a Mockingbird be as superb without their incredible soundtracks?
B-pictures like Lost Continent, Rocketship X-M, Kronos, and The Brain From Planet Arous would already be very entertaining movies even without their wonderful scores by Paul Dunlap, Ferde Grofé, Paul Sawtell and Bert Shefter, and Walter Greene. But with their inventive musical accompaniment, the music imbues the movies with a sort of dramatic unifying "glue" that binds together the performances, settings, special effects, and other aspects of the production into a unique whole.
The Wade Williams Collection contains endless examples of the power of music to take movies to even higher levels of artistry, just a few examples being Dimitri Tiomkin's DOA, Mario Castelnuovo-Tedesco's And Then There Were None, Ernest Gold's Unknown World, Leith Stevens' The Bigamist, Mort Glickman's The Bride of the Gorilla, Herschel Burke Gilbert's Kid Monk Baroni, and many, many more.
Our Monstrous Movie Music label has been fortunate and honored in being able to release the original soundtracks from a number of titles in The Wade Williams Collection, reminding listeners of the incredibly talented composers whose music consistently elevated the movies it was written for.
Click on any of the following links to hear some of this music: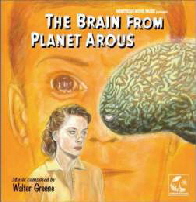 The Astounding She Monster

The Brain From Planet Arous

The Cosmic Man

Destination Moon

Frankenstein's Daughter

Kronos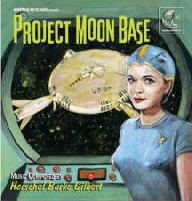 Lost Continent

Phantom Planet (which re-used music from Destination Moon)

Project Moon Base

Rocketship X-M

Teenage Monster
TO ORDER ANY MONSTROUS MOVIE MUSIC CDs,
PLEASE CHECK OUT OUR CATALOG