Now, classic film scores like Creature From The Black Lagoon, Bend Of The River, This Island Earth, Tarzan, The Deadly Mantis, Smoke Signal, It Came From Outer Space, Quantez, Kronos, Abbott And Costello Meet The Keystone Kops, Wichita Town, The Black Shield Of Falworth, The Last Man On Earth, Gunsmoke, The Golden Blade, The Incredible Shrinking Man, The Lawless Breed, and many others will inject a fresh dose of excitement into the performing repertoire. This distinctive and unforgettable film music will find favor with audiences familiar with the movies and also those who just enjoy great dramatic music. In addition to much of the music we've recorded on CD, we also offer fabulous music from films whose scores have never been recorded.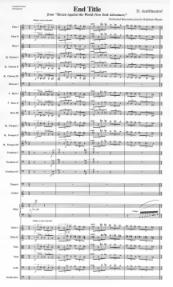 As fans of our recordings know, Monstrous Movie Music is NOT just about horror music. Much "monster movie" music was originally written for westerns, crime dramas, adventure films, and just about every other film genre imaginable. So we have music to fit whatever mood you need to enhance your concert program. Click on this RealAudio link to hear a classic cue from the powerful Roger Corman film about racial intolerance, The Intruder.
We even have rousing and inspirational music for patriotic and holiday Pops concerts. Have a listen to "Salute To Our Nation" by Irving Gertz and the opening of "Liberty! Liberté," which celebrates the Statue of Liberty. Or hear Kathleen Mayne's "Prayer Of Thanksgiving" or her seasonal favorite "Christmas Overture," of which Miklós Rózsa, Academy Award -winning film composer said: "Beautiful in its simplicity and gentility. A warmly charming work."
To listen to many more examples of our exciting music, please CLICK HERE.
If you are interested in having your orchestra or band perform some of the greatest "monstrous" music in history, or other film music that has never been in the concert repertoire, please contact us.