"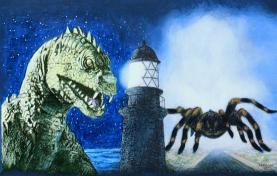 MORE MONSTROUS MOVIE MUSIC" contains an 18-minute suite from Ray Harryhausen's first solo animation epic, THE BEAST FROM 20,000 FATHOMS, which was based on a Ray Bradbury short story. David Buttolph's powerful score for this 1953 Warner Brothers release covers all the important musical moments of the film, including the eerie sounds of the Arctic environment, the destruction of the lighthouse, the diving bell sequence, the Rhedosaurus' attack upon New York, and the fiery finale at the amusement park. The Beast From 20,000 Fathoms' influential score helped define the sound of giant monsters on the loose in the '50s!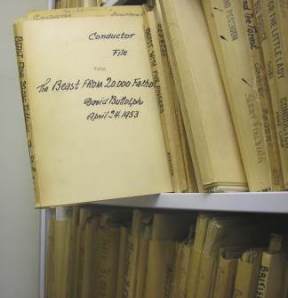 Also on "MORE MONSTROUS MOVIE MUSIC" is an 18-minute suite from TARANTULA, Universal-International's 1955 entry in the "GIANT BUG" genre. The studio boasted one of the strongest film music departments in the industry, and Herman Stein's and Henry Mancini's contributions to Tarantula augmented the memorable images with equally -exciting musical accompaniment. (NOTE: Tarantula's sequence featuring Clint Eastwood in a bit part did not have any music in it, so the actor's fans should not be expecting any Italian harmonica solos in our suite.)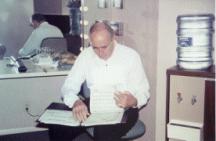 Universal was prone to re-use music from their earlier films, and Tarantula is an excellent example of how breathtaking a composite film score can be when it borrows from the finest moments of previously-written cues. The score is a skillfully-woven tapestry of music written specifically for Tarantula as well as pieces originally composed for This Island Earth, Dawn At Socorro, Six Bridges To Cross, Tanganyika, Smoke Signal, and other Universal genre films. Tarantula's score is guaranteed to give you the creeps, but it's a good kind of creeps!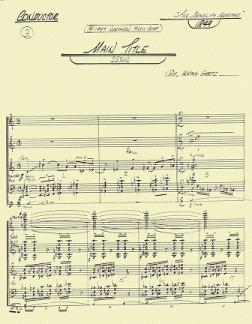 Next up is the Irving Gertz's startling and memorable "Main Title" from THE MONOLITH MONSTERS. This cue is from Universal-International's 1957 opus about giant killer rocks from space, and it uses similar musical material from Gertz's score for The Deadly Mantis. A sensational contribution to the art of film scoring, the music from The Monolith Monsters is "rock music" at its very best!
Finally, MORE MONSTROUS MOVIE MUSIC contains a 19-minute suite from the 1961 dinosaur film GORGO, featuring a colorful score from the master of Italian film music, Angelo Francesco Lavagnino. The 21 cues range from a gorgeous 'Main Title' featuring accordion to the dynamic music heard when Gorgo's colossal mother invades London to rescue her captured child. Though relatively unknown in the States, Lavagnino is considered a film music giant in international circles, and this score will transport you to a world of musical invention.
The 32-page liner book features eye-popping cover art by Robert Aragon, 13,000 words of information about the films, their scores, and the composers who wrote them, as well as a healthy dose of humor. The book also contains 25 photos (many in color), including never-before seen-copies of the music manuscripts. Not to mention pictures of composer Herman Stein before and after he lost his hair!
The liner book text includes timings that match the digital read-out on your CD player -- so you can follow along with the music while you read. You'll become a monstrous movie music expert in less time than it takes a dinosaur to trample a major metropolitan area!
How to order direct from Monstrous Movie Music
Order "MORE MONSTROUS MOVIE MUSIC"
through PayPal by clicking below!