Here's what the experts say about
Monstrous Movie Music...
The Doll Squad: "Given the incredible funkadelic jazz action music of Nicholas Carras, you might assume you're listening to some long-lost Lalo Schifrin score launching a renewed assault on Han's island, given how much this score has in kick-ass common to that composer's for a certain little Bruce Lee movie that came out the same year. While the Asian element is the only thing missing from Carras' work, the fact that his musical dynamo's fat brass could easily take on a martial arts army as opposed to Michael Ansara's haplessly dying soldiers says much about the kitschy excitement that Carras generates. His brass-powered theme has a bodacious sexiness to it, which is catchy enough to be varied from jazzy assault to lounge lizard cocktail hour strains. Carras also makes the coolest use of an electric organ this side of Ron Granier's The Omega Man in his action writing, whose sly, militaristic percussion wouldn't be at all out of place if it were playing behind Farrah Fawcett delivering a karate chop. Sure Carras might not have had the budget for Schifrin's Hollywood ensemble, but it's precisely the lounge hour intimacy of his ensemble that makes The Doll Squad so wonderfully groovy as it jumps between smoldering, villain-baiting eroticism and shagadelic action. And if there's more than a Bondian feel to its grooviness, hearing Buddy Kaye unleash his inner Tom Jones to belt out "Song for Sabrina" makes you particularly glad that John Barry never got wind of a tune that would have made for a pretty good 007 theme if he'd had more than a share of shaken and stirred martinis."
-- FilmMusicMag.com
JUVENILE JIVE: "Nicolas Carras is back in a wild mood for 1960s Date Bait, which makes for disc one of the switchblade jazz which comprises the double disc collection of 'Juvenile Jive.' Here he scores a teen girl who falls in love with a pill-popping fiend who ends up dragging her to the wrong side of the tracks, hook, line and marriage. When his hopping ensemble isn't going into a dope fiend swing, Carras scores Date Bait with all of screaming, small orchestral danger that accompanies so many of Monstrous' earlier scores. It's a nifty, hilariously cool combination of creature-worthy drama, growling brass and hip marijuana den grooves that makes you half expect the musicians ran into a rumble between the Jets and the Sharks, or at least Frank Drebin and The Police Squad, complete with a particularly funny quote of "Here Comes the Bride" and the doo wop song "Date Bait Baby." Before he had Kirk and Spock battling to brassily percussive Pon Far, Gerald Fried prowled the hallways of 1958s High School Big Shot, which works just as well as adult crime jazz as a kid's big-time plans to snatch a million go awry. Fried's work scoring the show M Squad comes in very hand with the crisp, brass and piano heavy score, with the kind of piercingly rhythmic melody that paved the way to the big Vulcan rub out. Carras concludes the punk score triptych with the soundtrack for 1960s High School Caesar, which has more empathy as a rich kid delinquent tries to fix the school election. Carras makes particularly good use of the bongos those reefer poets were playing back then, creating a neat crime does not pay combo, again given a catchy doo wop title tune. In any case, MMM's showcase of 'Juvenile Jive stands as great crime jazz of any age, with Schecter as always providing beyond-detailed, and very funny liner notes for albums that come off as passion projects of the best kind, whether the scores accompanied the letters of A, B or Z."
-- FilmMusicMag.com
THIS ISLAND EARTH: "Please allow me to offer a heartfelt thank you to David Schecter, Kathleen Mayne and Monstrous Movie Music for the outstanding release of these classic Science Fiction scores. The digital mastering and reconstruction efforts have served to produce a quality product with superb sound. The quality of their product is also superb, coming with extensive liner notes, which include history, production values, cue description and composer biographies. Having watched each of the films for my review, I must say that in each of these four efforts the composer's music transcended its film with creative, innovative, insightful and elegant thematic writing. For lovers of film score art this album is a gem that offers a unique listening experience. I strongly recommend that you add this wonderful compilation to your collection, as you will gain a new appreciation of the capacity of film music to inspire."
-- Movie Music UK
"WESTERN MEDLEY, a two-CD set... is a terrific release, from the music itself to the lavish packaging to the thorough liner notes. I'm particularly enamored of Shefter's work for The Great Jesse James Raid. Evidently, no one bothered to tell him this was just some cheap 73-minute cowboy movie. This is a set you'll want to spend some quality time with. Recommended. Let's hope there's a Western Medley Volume 2 someday. And by the way, the films themselves are available through Kit Parker Films and VCI (Jesse, Wild Horses) and Criterion (Baron). Out at the same time is Paul Sawtell and Bert Shefter's music for The Gatling Gun, a near-impossible-to-see picture with a production history that's probably more entertaining that the film itself. Before release, the film was confiscated when one of the producers was brought up on racketeering charges. The score's very good, and now I'm really wanting to see the movie."
-- 50 Westerns from the 50s
"THE DOLL SQUAD: Nicholas Carras' score is an infectious collision of quasi-007 spy grooves, 70s cop movie beats, exotic flourishes, shimmying flute solos, and enough brass to put hair on your chest whether you want it there or not. This is great driving music, although if you don't find yourself tailing another car and running red lights then you're not really listening. MMM has a lot of great movie music to offer these days, including the underscores for DESTINATION MOON (1950), THE BRAIN FROM PLANET AROUS (1957), and THE LAST MAN ON EARTH (1964) – want! Visit the Monstrous Movie Music website to listen to audio samples and to spend your last hard-earned dollar. The first piece of my own critical writing that I ever saw published anywhere in the world was a review in MONSTERSCENE for the original Monstrous Movie Music discs, back in the mid-90s, which gives this product plug a pleasing circularity. Good stuff indeed."
-- Richard Harland Smith, Good Stuff!
"Somehow mustering the gusto to treat its subject matter seriously, Carras carpeted the film with a wall of 1970s era action pop, exotica, and variations on '60s era spy music. The result is some very fun lounge groove, 31 score tracks plus the film's end title song, "Song for Sabrina," heartily sung in a Tom Jones/James Bond style by noted singer (and the song's lyricist) Solomon King. A fun and nostalgic album from MMM's latest batch of recordings (none of which, incidentally, are actually monstrous, but provide a welcome array of B-movie soundtracks from westerns and juvenile delinquent films of the '50s and '60s. MMM's producer and all-around good guy David Schecter provides his characteristically thorough notes for the booklet."
-- Randall Larson's Soundtrax
"Liner notes are excellent as is usually the case with MMM releases along as well as the mastering by Ray Faiola who did some pretty great work for Screen Archives/BYU over the years. [The Tall Texan] is one that I heartily recommend for your collection."
-- Film Music: The Neglected Art
She Demons/The Astounding She-Monster: "Five stars. Monstrous Movie Music continues to explore (very) strange retro worlds, and boldly go where no record company has gone before with the joint release of two more scores from the outer limits of sub-B-moviedom. As in any sci-fi score, there are lots of suspense cues [in Astounding She-Monster], but even these are fascinating due to the nuanced dynamics of the orchestral performance. There are also some nods to Bernard Herrmann... but on the whole this is a remarkably original score. I certainly can't recall ever hearing anything quite like it in a mainstream film of the period. Kauer was obviously a highly skilled composer well versed in early 20th century techniques and orchestration, and his use of brass is especially varied and dynamic... Listening to the entire score in order is an engrossing experience that reminds me of early 20th century ballets such as The Firebird, Jeux, and even The Rite of Spring. As a film, The Astounding She-Monster is something of a drag, but Kauer's music is truly astonishing, and it only seems more so with repeated listenings. Both scores on this release are presented in excellent mono sound that vividly captures the wide range of dynamics from snarling, abrasive brass to delicate flutes and string pizzicati and tremolo in She-Monster, and the rich lows, particularly from the timpani and other drums, in She Demons."
-- Film Score Monthly
"For collectors of Sawtell and Shefter, this rarely seen exploitation film contains a rather unique and satisfying score from the pair. Diverse and subjective in its approach, the score leads us through the beauty and dangers of its Guatemalan jungle setting. The music is peppered with expressive and melancholy cues. At 54 minutes, Virgin Sacrifice is a generous score that benefits from some fine orchestration. Collectors of Sawtell in particular, might well be reminded of his music from the Tarzan films he wrote for RKO. Again, an excellent 20 page booklet provides a unique and well researched written history of the production."
-- Cinema Retro Magazine
The Tall Texan: "If rousing western scores from the 50s are your thing, you are sure to enjoy this nugget. Another excellent 20 page booklet is included with the CD."
-- Cinema Retro Magazine
She Demons/The Astounding She-Monster: "Four stars"
Rue Morgue
"Whilst She Demons (as a movie) was never going to attain the title of "classic," Carras' music, as is often the case, promotes the film to a higher level. MMM has previously delighted us with a couple of superb Carras scores such as Missile to the Moon and Frankenstein's Daughter. Their commitment to the composer's work has proven to be a fruitful decision as She Demons is certainly one of his most accomplished scores. Doubling up very nicely with She Demons is Guenther Kauer's score to another low budget slice of sci-fi, The Astounding She-Monster. If Carras' score for She Demons was impressive, Kauer's is simply enlightening. It is a beautifully crafted and intelligently written composition that really has no right to accompany such a lacklustre movie. Like many sci-fi classics, there is an undeniable ambiance that is certainly Herrmannesque in its delivery, and that can't be a bad thing. Included is a super 20 page booklet that covers just about every aspect of the music, composer and the film, all written (in exquisite detail)."
-- Cinema Retro Magazine
"The Last Man on Earth has become something of a minor classic. Starring Vincent Price, the film is based on post-apocalyptic events on earth. This original soundtrack is in breath-taking stereo, and contains all the original music written for the picture. Fans of cinematic vampire music will not want to miss this album."
-- Cinema Retro Magazine
"Destination Moon marks the first complete release of the original Leith Stevens score. This spectacular score totals over 56 minutes and even includes Clarence Wheeler's music written for the Woody Woodpecker cartoon that appears in the George Pal film."
-- Cinema Retro Magazine
The Monster That Challenged the World: "Monstrous Movie Music has done an incredible job of assembling all of Romheld's cues and providing context for each of them, deconstructing the composition and execution to give the curious a fuller appreciation of the work that went into this project."
-- Moviemorlocks.com
"Monstrous Movie Music have been producing amazing releases for soundtracks that most would have thought would have been long gone and/or forgotten. The amount of work that must go into each of their releases is just crazy. You can tell the amount of love and passion that goes into these releases. They are fighting the good fight in bringing some forgotten scores to the forefront and helping to keep them remembered by older fans, as well as the newer ones."
-- Kitley's Krypt
The Brain from Planet Arous/Teenage Monster are a couple of B-movie classics! In fact, Arous is probably my favourite giant floating brain movie of all time. Walter Greene's inventive score is full of artistry and is impressive, considering he chose not to use a string section. Overall, a great 76 minutes of music highlighting a composer's work who, until now, has never had an album devoted to his film work."
"Missile to the Moon/Frankenstein's Daughter makes for a super coupling of cult classics directed by Richard Cunha. Composer Nicholas Carras introduces soaring electric violins, lovely melodies and great dramatic underscoring."
-- Cinema Retro Magazine
"Rocketship X-M provides a rare score by composer Ferde Grofé. Released for the first time in its complete form, it is renowned for being the first science fiction film to use the Theremin, an electronic instrument that helped define the sound of space in the 50s."
-- Cinema Retro Magazine
"Monstrous Movie Music's first ever 2-CD release Kronos/The Cosmic Man... showcases the composers' ingenuity when it came to enhancing B movie productions. Sawtell and Shefter provide a highly dramatic score and a lesson in how to build tension effectively. Although recorded with a small orchestra, The Cosmic Man's music shows the composers' ingenuity by using all sorts of devices and orchestration to add the requisite sci-fi soundscape. A healthy dose of percussive tricks, tremolo strings, and electric violin and organ are some of the musical effects used to bring the tale to life. As a 2 disc set, the titles work perfectly alongside each other and should prove irresistible to fans of golden age sci-fi music."
-- Cinema Retro Magazine
"Monstrous Movie Music has also ventured beyond their regular genre with the release of Ernest Gold's beautiful The McCullochs. It is one of Ernest Gold's lesser known scores, with the CD marking its debut release. Combining Americana, Irish melodies, Big Band and jazz, comedy, it's an extremely well-written and enjoyable piece of work."
-- Cinema Retro Magazine
"It's easy to recommend these CDs. Monstrous Movie Music has assembled a nice package, with thorough notes and some fascinating archival material. David Schecter says that if these titles do well, there are other 50s Western scores he'd like to get around to. Let's help make sure he can."
-- 50 Westerns from the '50s
HOWLIN' WOLF RECORDS LIKED OUR RELEASES SO MUCH THAT THEY (INCREDIBLY) OFFERED TO HELP PROMOTE OUR LITTLE SOUNDTRACK LABEL, EVEN THOUGH WE'RE COMPETITORS! IS THAT NICE OR WHAT? TO SEE THE FABULOUS JOB THEY DID, INCLUDING A FUN VIDEO, CLICK HERE! AND PLEASE BUY THEIR EXCELLENT PRODUCTS, TOO!
Ernest Gold's Ship of Fools has won a 25th annual "Sammy Award" for Best Silver Age Film Score CD.
Monstrous Movie Music's Kathleen Mayne and David Schecter have won a "Best Album Producers" Special Preservation Award for the 25th annual "Sammy Awards."
The Brain From Planet Arous: Four-and-a-half stars. "Greene was a master of moods, using his supreme orchestrating skills to evoke multiple levels of tension and paranoia in what otherwise might otherwise have been banal shock cues. A fat booklet rounds out another stellar MMM spotlight on a forgotten master."
-- KQEK
Rocketship X-M: "Excellent. MMM's CD comes with another lengthy foldout booklet featuring gorgeous cover art by Vincent Di Fate, and Schecter gives a broader (and more contemporary) history of the film, the score, and the unusual collaboration between a concert composer and a B-movie maestro."
-- KQEK
Project Moon Base/Open Secret: "Excellent. MMM's production is first-rate, and includes another massive examination of the composer and the music, and while the CD will please fans of sci-fi, noir, and B-movies, it's also a fine tribute to one of the many professionals who worked hard and was savvy in exploiting his skills in various media streams. With music in film, TV, and stock music libraries, Gilbert should be a name that conjures more than a giant question mark, and perhaps this CD will help in at least elevating his stature a little bit from outright obscurity."
-- KQEK
The Brain From Planet Arous: Four stars. "Greene uses his limited musical forces with great impact and imagination throughout. Indeed, you never know what's coming next with this score, and that is really one of its very real and very postmodern charms."
-- Film Score Monthly
Destination Moon: Five stars. "Though the Destination Moon score has appeared in several recorded guises over the years, this MMM CD is the first complete recording of the entire original soundtrack and clocks in at nearly an hour of music."
-- Film Score Monthly
The Last Man on Earth: Five stars. "Last Man is emphatically one of the finest releases so far from the adventurous and ever-expanding Monstrous catalogue (they recently also released Ernest Gold's Ship of Fools), and a welcome addition to the also-growing renaissance of noteworthy Sawtell/Shefter releases."
-- Film Score Monthly
Missile to the Moon: Four stars.
-- Film Score Monthly
"Destination Moon and Rocketship X-M: The Best of 2012."
-- Film Music Society
"MMM's CD [Destination Moon] is a must-have for genre and the composer's fans."
-- KQEK
Monstrous Movie Music continues to preserve the vast cornucopia of unrecorded 1950s science fiction and monster movie film scores with splendidly restored original soundtrack recordings of scores such as this... Destination Moon is a thoroughly sublime score, expressing the solitude and spacial reality of outer space with muted grandeur... this nicely remastered release offers the actual unedited soundtrack music for the first time (previous LPs were either re-recorded or else condensed Stevens' lengthy passages into more manageable record album tracks). As always, MMM's David Schecter provides a detailed historical and analytical commentary on the film score in his expertly researched notes."
-- Soundtrax
"[Missile to the Moon/Frankenstein's Daughter is] a fine original soundtrack release from Monstrous Movie Music. It's a lot of fun and proffers a deliciously nostalgic listen in prototypical '50s sci-fi fashion. MMM has nicely restored the score from tapes found in the composer's library, and promises that an album of She Demons is likely to appear in the future. Thoroughly comprehensive notes from David Schecter supplement the recording with invaluable background data and analysis."
-- Soundtrax
Special Merit: The Brain From Planet Arous. "The music score by another unjustly forgotten composer from the past, Walter Greene, is extremely good. It is very inventive and clever and makes the most of the small orchestra used and the sound quality is exceptional for such an old soundtrack. This is a film score that is a joy to listen to because it has real passion behind it, and the heavy use of brass harmonies greatly enhances the score, especially since there are no strings used. This very handsomely produced CD has well over an hour of Walter Greene's two film scores. Also, there is a brilliantly orange cover art by Robert Aragon and a well illustrated 20 page booklet with several pictures of Walter Greene and also the lovely Joyce Meadows -- this CD is appropriately dedicated to her. I believe this is one of the most unusual and unique releases yet from Monstrous Movie Music. The Brain From Planet Arous is surely one of the great low budget film scores from the 1950s -- at least from 1957! Let Walter Greene's music get into your mind like the film's "giant, evil, floating, sex-crazed extra-terrestrial brain." Give this CD a try. What a fun time you'll have listening to this marvelous music! Highly recommended."
-- Film Music Review
"The Last Man on Earth is another in a long line of high quality CD releases from Monstrous Movie Music and well worth adding to your soundtrack collection."
-- Film Music Review
"When it comes to your one-stop symphonic shopping for lurching, snarling, pouncing or otherwise electronically beaming horror/sci-fi scores from the 50s and 60s, then Monstrous Movie Music continues to be the label of choice with a wonderfully overwrought slew of classic creature double feature scores. But in a new batch of releases that include such late night TV chestnuts as The Last Man On Earth, Missile to the Moon, and Destination Moon, the battiest pick of bunch is undeniably Walter Greene's score to 1957's The Brain from Planet Arous. Greene approached Arous with a beguiling combo of pop jazz and the frantically menacing orchestrations. The result is a thoroughly fun, horn-inflected musical monster mash that more often than not comes across like a Halloween episode of Batman. Brain also benefits from being more melodic than most of its ilk, a one-two combo of slutty 50s hepness, creeping suspense and snarling brass that makes Arous an enjoyable, and varied listen. Also of note is a romantic theme that's two notes removed from West Side Story's "Somewhere," though it's doubtful that Stephen Sondheim ever saw The Brain From Planet Arous. Monstrous' sound is impressive as it unleashes one of the more memorably unsung scores in the annals of B-picture weird science, with label head David Schecter's always copious liner notes doing their always-entertaining cross between MST3K comedy routine and revealing insanely detailed information."
-- Film Music Magazine
"The Last Man On Earth sounds remarkably lavish, especially given that Sawtell and Shefter likely didn't have the resources of the studio horror/sci-fi programmers they were used to... The curiously tender, yet doom-laden, melodic content of The Last Man on Earth is grandly impressive... so gloriously the stuff of scores of this sort from the period, and one reason Last Man continues to stand tall."
-- Film Music Magazine
"Editor's Choice - Best Of The Month" -- Ship of Fools
"Once again, David Schecter has provided extensive and very useful notes in the 16-page accordion style liner, which has black & white film stills, several nice pictures of Ernest Gold, and a few beautifully reproduced pages from the original score itself. These illustrations are examples of what sets Monstrous Movie Music apart from larger record labels who have skimpy notes and mainly large pictures of the movie stars... This CD is another outstanding production from Monstrous Movie Music and deserving of special praise. It has excellent sound quality and the booklet has impressive illustrations, with even a lovely landscape painting by Ernest Gold! I'm pleased to give Ship of Fools my highest recommendation and name it Best of the Month."
-- Film Music Review
"Special Merit" -- The McCullochs
"This is one of those film scores that could have easily been lost, yet thanks to the preservation efforts of David Schecter and Kathleen Mayne, this fine score by Ernest Gold has been saved from the scrap heap of forgotten films. The McCullochs is a very good score that is well produced and it is the premiere release on CD as well. The CD is recommended, especially for film music fans in search of a less well known but very worthwhile soundtrack. Bravo to Monstrous Movie Music!"
-- Film Music Review
Ship of Fools:: "Very good. Liner notes are massively detailed in production and composer bio details, as well as comparative details between the score and re-recorded RCA versions, and the inclusion of stills provides a rich overview of this small gem."
-- KQEK
"Appearing with slightly more regularity than the latest J.D. Salinger novel, David Schecter and Kathleen Mayne's Monstrous Movie Music label would achieve the same kind of reverential anticipation from soundtrack fans. Becoming a gold standard for archival genre soundtracks. MMM's titles resounded with impressive production value, Schecter's humorously minutiae-filled liner notes, and the kind of pure, geek dedication to unearthing the music of many a creature-feature filled childhood.
"The most hardcore of the ultra-busy, ominously eerie school of creature feature scoring goes to the MMM's two-for-one release of Paul Sawtell and Bert Shefter's music from 1957's Kronos and 1959's The Cosmic Man. Kronos is easily the most unique of the portentous pair, given its villain was a giant, energy-consuming robot from outer space, one of the most striking monsters to grace a 50's movie... the dominant message amidst the chattering instrumentation is one of absolute, end-of-the-world-if-we-don't-stop-it panic. For stomping throughout the score are huge blasts of lurching brass, a very effective musical embodiment for a giant, city-stomping machine as it advances with slow relentlessness... extra points for its cosmically inspiring cover art by Vincent Di Fate."
-- Film Music Magazine
"Next accompanying a galactic visitor with far nicer than Kronos, Sawtell and Shefter resultingly are far less musically busy when capturing The Cosmic Man... don't expect Bernard Herrmann's god-like walls of organ and orchestra from the composers here (especially due to the budget again), but eerily apprehensive melodies that do little to convince us of this E.T.'s peaceful intentions. The electric violin is even more unsettling amidst this nicely restrained, atmospheric score that's all about the trembling fear of the unknown... Sawtell and Shefter's hushed approach rings out with touching sadness, creating a noble ode for The Cosmic Man, as well as the bittersweet ode to a human race that just never seemed to get it when a space visitor was bearing an olive branch instead of a ray beam."
-- Film Music Magazine
"Where MMM has helped bring to light such composers as Sawtell and Shefter, the real discovery of this space voyage is its rousing score by Ferde Grofe. With precious few composing credits to his name, Rocketship X-M reveals a soundscape that's surprisingly beautiful for the genre scores of the period. Having written a classical suite for The Grand Canyon, Grofe imagines Mars with the same kind of vast, romantic poetry (with even the playful addition of 'Jingle Bells'), at least until Martian mutants imposingly show up. Grofe's music achieves that rare genre grail of having a sense of wonder bringing to mind John Williams' work for Lost in Space, as Mars is unraveled with awe-inspiring themes. And of course, the Theremin is once again along for the ride. Its airwaves are milked for all of their weird, pulsating exoticism here, for what might be the instrument's most dexterous use outside of (and before) The Day the Earth Stood Still, especially when combined with an organ at its most unearthly reaches. There's a soaring, sci-fi magic that fills Rocketship X-M, even during the earliest days of the movie music space program. It figures that MMM would be the label to dust off this striking score, with Vincent Di Fate once again providing enticingly stellar cover art."
-- Film Music Magazine
"1965's Ship of Fools seems the first real non-creature leap that MMM has taken with an older release -- unless you realize that said German freighter is steaming directly into the opening jaws of Hitler's machine. Ship is a slow-moving, if effective soap opera that gives [Stanley] Kramer's dexterous composing partner Ernest Gold a chance to show his formidable talents, flawlessly segueing from [It's a Mad, Mad, Mad, Mad World's] merry-go-round broke down music to Fool's powerhouse dramatics. His throttling 'Main Title' mixes an ironic orchestra with brassy Latin rhythms and swooning strings, as if the whole thing was going into a chorus of 'I Want to Be in America.' Gold's beautiful, soulful theme conveys the tragedy of pathetic has-beens on the way to the future slaughterhouse, whether it's forlornly looking in a mirror, bidding a fateful goodbye, and even getting in a bit of welcome absurdity as a woozy mental breakdown kicks in with the 'Charleston For Fools.'
"The Viennese composer was likely in seventh heaven with the surfeit of source cues that comprises most of this soundtrack. If you're in the mood for Viennese waltzes, tangos, string quartets and a Germanic marching band heralding a fateful series of de-embarkations, then this album is a first class ticket."
-- Film Music Magazine
The McCullochs: "Given the Big Country style main theme that gets this thoroughly enjoyable soundtrack off to with a bang, you might think this is a sturdy western score, until the big band 1940's radio source kicks in for a bit. Like the kind of brawling folk they grow in Texas, [Ernest] Gold's rousing music doesn't keep much emotion close to the vest. Instead, it's all get-out for a brightly rousing, purposefully old-fashioned orchestral hoedown with a surfeit of melody and heart. Sure these macho men might be driving trucks, but Gold plays them with the dramatic sweep of Giant... Given how positively un-horrific The McCullochs is, it's understandable that you can barely make out the words Monstrous Movie Music on Robert Aragon's painted album cover, which puts the spotlight squarely on a lustrous Julie Adams. Sure MMM put out the music for her hit movie The Creature From the Black Lagoon a while ago. And precious few releases later, their release of the sweetly entertaining score to The McCullochs says just how more encompassing MMM's ambitions have gotten, all while still keeping their core audience."
-- Film Music Magazine
Rocketship X-M: "A fine mastering job by Ray Faiola. David Schecter's album notes, as usual, are a wealth of information and understanding."
-- Randall Larson
Kronos/The Cosmic Man: "Two new, wonderful CD's of old 'B' movies from the 1950's full of rare tracks... You can't go wrong with any of the CD's from their site. It's easy to see and hear how much work and soul they put into each release
-- Godzillmonstermusic.com
It! The Terror From Beyond Space and The Monster That Challenged the World: "An amazing score, a must for fans of the genre and its music, and a fascinating voyage into the unknown for film music enthusiasts in general. I found that listening to both CDs while following along with Schecter's comprehensive, often witty liner notes (a trademark of all the Monstrous releases) was an enlightening, entertaining experience, heightened by the pleasure of discovering two excellent and previously unrecorded genre scores."
-- Film Score Monthly
Project Moon Base & Open Secret: "The composer's flair for creativity clearly shines through and stands as fine example of brilliance over budget. A handsomely produced package that will no doubt appeal to fans of the genre."
-- Cinema Retro
It! The Terror From Beyond Space: "The score stands up well as an excellent example of evoking both a sense of threat and foreboding. Great fun and great to see this score finally released."
-- Cinema Retro
The Monster That Challenged the World: "Recommended."
-- Film Music: The Neglected Art
Project Moon Base & Open Secret: "Special Merit. This MMM CD release is another example of their insistence on producing a high quality product and doing much detective work to highlight lesser known film composers and scores, even for such lesser quality films as these."
-- Film Music Review
It! The Terror From Beyond Space: "One Of The Top Soundtracks To Own For May, 2011. Musical manna from heaven for any score fan that spent the better part of their youth glued in front of TV creature double features. While no one did a better job at replaying classic creature scores, MMM's new mission does the best job possible at giving these original tracks new, growling vitality. The lengthy liner notes by producer David Schecter continue to stand as some of the best written, combining geek love with hilariously idiosyncratic observations, along with true musical insight to the frenetic sound of 50's horror and sci-fi music."
-- Film Music Magazine
It! The Terror From Beyond Space: "The sort of top notch production one has come to expect from the label."
-- Film Music Review
The Intruder: Winner of the 2009 Sammy Award!
"[The Blob is] HIGHLY RECOMMENDED for SF/Horror soundtrack fans"
-- Starlog
"Stein's Intruder is a marvelous score."
-- Filmfax
"As with previous MMM CDs this is a quality release. The sonics are excellent, the sound bright and David Schecter has provided a generous 13 pages of informative and entertaining liner notes. As usual, there are some bonuses, in this case four extra tracks from The Blob, one of which served duty in two other films. The cover art is by MMM stalwart Robert Aragon and features cameos in the background by Carmichael, Schecter, Mayne, Bob Burns and The Intruder composer Herman Stein."
-- Monster Kid Online Magazine
"[The Intruder] It's a hard-hitting film and Stein's mostly orchestral score also packs a punch. Following the dour seriousness of The Intruder is Stein's brief, but delightful score for Career for Two, a short 1951 industrial film about savings banks. It's the composer's first score and it's clear from the get-go that he's got the musical moxy for the movies. It's definitely worth seeking out."
-- Score, Baby!
"[The Blob] It's easy to get swept away in this wonderfully imaginative music. Just get it already."
-- Score, Baby!
"[This Island Earth] An inordinate amount of thought has been applied to these recordings, and the results are richly rewarding. [MMM's] devotion to preserving such wonderful scores is simply beyond question."
-- Cinema Retro
"[The Blob is] a thoroughly enjoyable listen. There is, of course, so much more to this CD than first meets the eye. With almost 40 mins more devoted to such horror and B movie classics as The Green Slime, Terror from the year 5000 and The Brain that Wouldn't Die, there's certainly enough here to keep the most ardent of horror fan satisfied. Incorporating works of such legendary composers as Roger Roger, Angelo Francesco Lavagnino and Mario Nascimbene this is a must-have for any Blob-ophiles and other sci-fi and horror fans."
-- Cinema Retro
"It's a real treat be able to enjoy Herman Stein's score to [The Intruder]. The result is a refreshingly unpredicatable element to the score that evokes comparisons to Bernard Hermann's chilling work on Psycho and Cape Fear. Bonus material on this well-produced disc includes the composer's complete score for Career for Two (1951) and an additional selection of unused main titles and underscores. Monstrous Movie Music deserves credit for releasing this forgotten gem that amply showcases the composer's diverse talents."
-- Cinema Retro
"This Monstrous Movie Music CD is recommended especially for The Blob."
-- American Music Preservation
"[The Blob] is a superb release which has been meticulously put together by people who clearly care very much about the music. One of the hallmarks of the Monstrous record label is the amount of research that goes into their albums."
mfiles
"[The Blob is a] landmark soundtrack CD."
-- VideoScope
"These two latest CDs from Monstrous Movie Music offer world premiere releases of scores that movie buffs will welcome. As we have indicated before, this company employs high production standards, and their detailed booklets are almost worth the price alone!"
-- Journal Into Melody
"[The Blob] is a mood-music lover's dream. Offering melodic moments ranging from frightening to frisky and terrifying to tranquil, the collection is altogether spellbinding."
-- Illinois Entertainer
"Both discs [The Blob and The Intruder] feature 16-page booklets with witty and comprehensive liner notes by David Schecter, who devotes the kind of attention to the film, the music, and the composer that we'd like to find in every serious soundtrack release."
-- Video Watchdog
"Released complete for the first time on disc (including cut cues), Stein's music [for The Intruder] has a real dramatic edge to it. The thunderously aggressive Main Title sets the scene perfectly, combining insistent, rhythmic string work with driving brass statements to produce a genuinely startling curtain raiser. Elsewhere, toe-tapping jazz source cues mingle with more lyrical passages, resulting in a rich and varied score that is sure to impress admirers of its composer."
-- Film Review
"Fans of the film or the genre will find The Blob and Other Creepy Sounds to be a jewel in their soundtrack collection. [It] is a masterpiece of forgotten classics that any fan of music will appreciate."
-- Mania.com
"FOUR STARS: The Intruder is a very good score and fully deserves to be made available in complete form. I highly recommend this CD to anyone in search of discovering music well worth hearing... the film music of Herman Stein."
-- American Music Preservation
"EXCELLENT RATING -- The Blob is a must-have album that will give repeated play. Producers Schecter and Kathleen Mayne have made a wonderful tribute to several unsung film and mood music composers. All cues are beautiful mastered from crisp and clean mono sources, and the CD includes the entire Blob score, plus some rare full-length source cues."
-- KQEK.COM
"Like the simultaneously released album of The Blob, this [The Intruder] is a mandatory addition, and another example of the skilled talent that was employed by the B-movie industry."
-- KQEK.COM
"Carmichael's score for The Blob finally receives its due with a wonderful soundtrack release. This is a delightful encounter with low-budget 1950s film music, preserving music I never thought I'd hear... Many thanks to MMM for their continued commitment to preserving and restoring vintage science fiction and horror film music from the 50s and 60s."
-- Randall Larson, author of "Musique Fantastique"
"[The Intruder] is yet another welcome opportunity to be able to explore Herman Stein. Take advantage. Recommended!"
-- Golden Scores
"Monstrous Movie Music... has put out another wonderful CD full of rare tracks. [The Blob] CD itself is fully packed clocking in at 75:49 and you get your money's worth."
-- Godzilla and Other Monster Music
"If anything connects the albums of THE BLOB and THE INTRUDER, it's a sense of true geek love that MMM infuses its releases with, from their surprisingly good production values to Schecter's exhaustively hilarious liner notes for them. I look forward to MMM's continuing countdown of my Creature Feature favorites, even as they look beyond it."
-- iFMagazine.com
"[The Intruder] As with all the label's releases, the illustrated accompanying foldout booklet is crammed with information on the films and their composer, together with an invaluable cue-by-cue guide."
-- ScreenSounds
"[The Blob is] an engaging trip back in time, the album also features music from The Green Slime, Terror from the Year 5000 and The Brain That Wouldn't Die. Now they certainly don't make 'em like that any more!"
-- Starburst
"[The Blob] Another splendid foldout booklet accompanies the disc, featuring extensive notes and the usual cue-by-cue guide."
-- Film Music Bulletin
"Best of 2006" (Mighty Joe Young and This Island Earth)
-- Film Music Review
"Best Soundtrax of 06" (Mighty Joe Young and This Island Earth)
-- Mania.com
"Whatever your personal favorite piece of music is from these treasured CDs, the true perfection is in the love and time that was put into their production."
-- Scary Monsters Magazine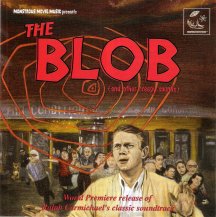 Five

-- "Beautifully reconstructed and digitally re-recorded.. . comes with a meaty booklet of incisive and entertaining notes."
-- Rue Morgue Magazine
"Monstrous is something like The Little Engine That Could, scaling unimaginable heights to deliver breathtaking reconstructions. Its releases are must-haves, and the latest, long-awaited titles [This Island Earth and Mighty Joe Young] are no exception. This Island Earth is a sonic science-fiction sensation. The varied compositions were restored by Kathleen Mayne and recorded gorgeously--and faithful to the original orchestrations--by the Radio Symphony Orchestra of Slovakia under the direction of Masatoshi Mitsumoto. David Schecter's 40-page, richly-illustrated booklets are encyclopedic, and as delightful as they are detailed."
-- Video Watchdog
"EDITOR'S CHOICE: April, 2006. These new recordings [This Island Earth and Mighty Joe Young] from Monstrous Movie Music seek – successfully – to replicate the same kind of intimate but infinitely detailed acoustics that distinguished the original vintage recordings. Consequently this music sounds 'authentic' in more ways than one. The listener is genuinely transported back to another era, albeit with the added dividend of digital recording techniques. The sterling performances of the Radio Symphony Orchestra Of Slovakia under the sure batons of Masatoshi Mitsumoto and Kathleen Mayne also bring additional veracity to the proceedings. Oh yes, the CD booklets! They are forty pages long! Everything you could ever want to know about the films, the scores (every recorded cue in detail), the composers and the recordings is reproduced here – and the tomes are lavishly illustrated too – photos of the composers, of the recording sessions, of manuscripts – even a picture of the album's producer and his wife, the reconstructionist and conductor Kathleen Mayne, standing amid a field of Triffids! I hope they got home safely! These booklets are so stupendously annotated that I'm still reading mine – and its been three weeks already!"
-- Film Music on the Web
"Great fun to listen to. Herman Stein's music for the classic This Island Earth certainly ticks all the boxes when it comes to this kind of fare: energetic and full of vigour, it features trilling strings and a series of in-your-face statements from the brass section that are undeniably of the period. This unmistakable sound has been lovingly re-created by conductor Masatoshi Mitsumoto and his team. Five stars."
-- Starburst
"A good time will be had by any retro sci-fi fan. The 40-page note booklet is packed with interesting stuff."
-- Audiophile Audition
"Highly recommended."
-- Starlog
"David Schecter and Kathleen Mayne of Monstrous Movie Music have finally issued their latest two recordings, with results no less effective and pulse-pounding than their first three. Both volumes include an exhaustively researched and details-rich CD booklet."
-- Cinescape
"The Radio Symphony Orchestra of Slovakia and the recording are superb, as well as the music restoration. Kathleen Mayne did a job to be proud of, as well as conductor Masatoshi Mitsumoto. Just the liner notes (it's really a book) are worth the price of the CD!"
-- Movie Music UK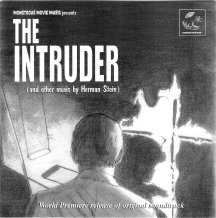 "The production [Mighty Joe Young]... is nothing less than excelllent. A nice fat booklet (almost a book, really) completes the Monstrous package."
-- Science Fiction Weekly
"The three wonderful CDs... are beautifully organized and the sound is truly so crisp and full I felt like the little boy who would be taken to the MGM recording studio by my father. What joy!"
-- Erik Amfitheatrof, son of film composer Daniele Amfitheatrof
"Let me congratulate you all on the fantastic presentation and quality of the music. I don't think I ever really appreciated how beautiful the sound track was until I listened to this."
-- Janina Faye, star of The Day of the Triffids
"It is no wonder Monstrous Movie Music releases take so long to appear when you consider the time and effort that goes into the preparation of each recording. Let's hope the future holds similar delights from this enterprising label."
-- ScreenSounds
"Fans of these previous recordings will rejoice to know that their ranks have been swelled by two more albums: Mighty Joe Young and This Island Earth. Masatoshi Mitsumoto, conducting the Radio Symphony Orchestra of Slovakia, has done an admirable job re-creating the sound and pace of these scores from the reconstructions of Kathleen Mayne. Both albums are highly recommended to both the soundtrack collector and to those who love science fiction and fantasy films.
"The [MMM CDs] are bountiful treats for the soundtrack collector, meticulously researched and reconstructed, conducted with great affinity for the material by Masatoshi Mitsumoto, beautifully recorded and mastered with superb sound quality, and graced with generous and detailed liner notes that also offer interesting photos and reproductions of score manuscripts. All reasons why every soundtrack collector should support the Monstrous Movie Music releases."
-- The Thunder Child: Journal of Classic Fantasy and Science Fiction
."Brilliant new digital re-recordings of classic sci-fi scores."
-- Los Angeles Times
"We can promise you that you will not be disappointed – they are simply superb. Each disc also comes complete with a 40-page booklet, describing in great detail the film and score, with many rare production photographs."

-- Widescreen Movies
"The CDs arrived and I have to say, that they are really amazing! Your wife and you are doing a wonderful work."
-- Elisabeth Trautwein-Heymann, daughter of composer Werner Heymann
"'Classic' rating. Since the appearance of the classic film music series as conducted by Charles Gerhardt on the RCA label, many vintage film scores have received the reconstruction and re-recorded treatment. This practice has had its gems and also a number of works that have not been exactly brilliant. This latest collection from Monstrous Movie Music in the States is I am glad to say going to be one of the very few that is among the gems, being one of the most faithful re-recordings that I have heard in a long while. The packaging on the compilation is outstanding... [the booklet] is packed with an unbelievable amount of information... The cover too contains some eye arresting artwork. As for the quality of the recording it is wonderful, and the authenticity, well I forgot that I was listening to a re-recording, I was so caught up in the music... I cannot recommend this recording highly enough, this is one CD that you should not be without. So much music, so much information, so go out and buy it!!!"
-- Music From The Movies
"If there are any questions about how to re-record filmusic, go listen to Monstrous Movie Music CDs. The effect is so authentic that you'll look around and ask, Where the hell is the movie? Creature from the Black Lagoon [is a] miracle. The release features a 40-page set of liner notes that are as much fun as the music. It's a classic entry in the annals of filmusic and a treasure of scares and smiles. An incredible listening experience and surely more fun than I've had in years listening to filmusic."
-- Jack Smith, Films In Review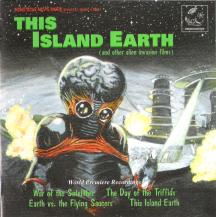 "Top Ten Film Music Albums Of The Year" (Monstrous Movie Music & More Monstrous Movie Music)
-- Tower Records
"Sound quality, as per their usual high standard, is perfect. And again, incredibly detailed liner notes are worth the admission alone, documenting the film histories, the scores and their creations, and biographies on the composers. For fans of classic horror films [Creature From The Black Lagoon] is a must. For those with a passing interest in the reconstruction and preservation of classic scores, this recording will surely be of great interest."
-- Film Score Central
"Put these on your 'must-have' list. They are indispensable. Special note must be made of the 32-page booklets."
-- Filmfax
"[The] reconstruction and recording is excellent, and the liner notes are exhaustive."
-- Monsters From The Vault
"Impressive re-recording effort. Well researched and authentic."
-- "U.S. Soundtracks On CD"
"Best Compilation CDs of 2000" [Creature From The Black Lagoon] and "Best Record Label: Compilations."
-- Film Music Review -- The Web Magazine
"Breathtaking stereo suites... orchestrated and conducted to sound just as they did it in the movies, without changes or interpretation. Clearly, this is a production of great love."
-- Starlog
"In the annals of fantastic film music, this disk [Creature From The Black Lagoon] joins the previous pair as some of the most important horror film music recordings ever. 40 pages of copious, encyclopedic, and exhaustive liner notes, delving into fascinatingly intricate detail about the use of music in these films."
-- Fandom.com
"These CDs are a godsend."
-- Film Score Monthly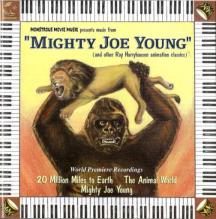 "To hear the CREATURE music rerecorded with state-of-the-art recording techniques is quite revelatory. Had [The Alligator People's music] been tied to a better picture, this would certainly be remembered today as a classic and imaginative horror score. The CD is packaged with a 40-page illustrated booklet... which discusses the films, the scores, and their composers in gratifying detail. You don't find articles of this depth even in magazines devoted to movie music."
-- Video Watchdog
"Five stars [out of five]. Remarkably authentic re-recordings of music from 1950's SF and fantasy B picture creature features, supported by a superb booklet which is a model of presentation. Splendidly performed with the Slovak Radio Symphony Orchestra. [Creature From The Black Lagoon (and other jungle pictures)] is music for the true fan and aficionado, a celebration of those neglected films which offer much more entertainment and fun than the 'A' pictures which they sometimes accompanied."
-- Film Music On The Web
"A+ Remarkable reorchestrations and a flawless symphonic performance, result in an excellent, exhilarating album. The 40-page booklet that accompanies the disc is also incredible, revealing a phenomenal level of scholarship. Creature From The Black Lagoon is a wonderful collection, marvelously capturing the essence and the excitement of these movies and their music."
-- SCIFI.COM
"These masterfully produced CDs are the big ones! [Monstrous Movie Music] has set the standard for all future classic score recordings"
-- Scarlet Street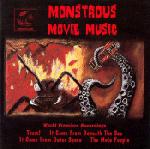 "The music is strong enough and distinctive enough to please both the fans of horror movies and film score aficionados."
-- Movieline
"[Creature From The Black Lagoon is] a superb new album. A major contribution to the ever-growing attention that is being paid to genre movies in general and horror and sci-fi movies in particular."
-- John Stanley (of "Creature Features Movie Guide" fame)
"Cool CDs which... showcase superb digital re-recordings of musical scores from some 1950's sci-fi classics."
-- The Sci-Fi Channel
"Creature [from the Black Lagoon] is a class act from fanfare to finale, and is essential listening for horror enthusiasts, soundtrack collectors, and the 8-year-old in us all. Extensive and humorous liner notes."
-- Cool And Strange Music!
"[Monstrous Movie Music] is really a stunning example of how to do something right. It's a beautiful recording that tries painstakingly to recapture the sound of the original soundtrack."
-- Soundtrack Cinema
"Terrific music for classic monsters."
-- Soundtrack magazine
"Creature From The Black Lagoon (and other jungle pictures) is a wonderful collection, marvelously capturing the essence and the excitement of these movies and their music. The 40-page booklet that accompanies the disc is also incredible, revealing a phenomenal level of scholarship.
-- Science Fiction Weekly
"The performances (by the Radio Symphony Orchestra of Slovakia) are superb throughout , and MMM's recording process has all the fidelity of a modern recording, yet with the in-your-face sound common to the old scores. Special mention must be made of the CD's liner notes. If there were Academy Awards for score albums, this would EASILY win the 'best booklet of the year' statuette. Almost encyclopedic in scope, the amount of information in there is overwhelming, and proves once and for all these guys are in the business out of love of the music and movies."
-- ScoreLand
"Some of the 1950's best monster music. Inventive, dynamic, infectious. The renditions are flawless and painstakingly faithful."
-- Cinefantastique
"[Creature From The Black Lagoon is] a stellar effort that resurrects some wildly distinctive film music in amazingly authentic form. A big, web-handed salute to... everyone involved in the production of this CD."
-- Mothership.com
"Must-haves. If you like to think of yourself as a fan and a supporter of these movies and their music, I've got news for you -- you're NOT, unless you order these CDs pronto."
-- VideoScope
"They are both wonderful nostalgic items (especially for folks who caught these films first time around) and educational tools for younger listeners like myself. Get 'em because they are high quality albums that are most importantly fun to listen to."
-- Cinemusic.net
"Beautifully restored and played music in superb stereo sound. Not only of great value for soundtrack fans, but also movie lovers, especially the ones that love science fiction and monster movies, will be surprised by the excellent re-recordings of Monstrous Movie Music . The Radio Symphony Orchestras of Cracow and Slovakia have done a beautiful job under the inspiring conductor Masatoshi Mitsumoto. That inspiration can be heard in every note of the music. These CD's should be part of the collection of every true soundtrack and movie fan."
-- Soundtrack Collector
"To call the third release from Monstrous Movie Music 'astounding' would not do it enough justice. The recordings are dead-on recreations of what the composers originally intended. Also included is a 40-page booklet with the most comprehensive liner notes I've ever seen. The ultimate comprehensive presentation possible!"
-- Soundtrack.net
I'M CONVINCED! I'M CONVINCED!
(TAKE ME TO THE ORDER PAGE RIGHT NOW!)
"The sound is really exceptional and the orchestra top rate. [The Beast From 20,000 Fathoms] is a first-rate improvement over the original."
-- Ray Harryhausen, legendary special effects artist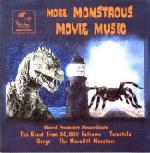 "RATING: 10 out of 10. If you are a fan of horror films and/or good music, then you absolutely must have these... CDs in your collection."
-- Fears Magazine
"What they've accomplished here in terms of restoration is indeed an accomplishment. For the fan who has fond memories of these films the music will definitely take you back. So will the 32 page CD booklets! If you're looking for a way to spice up your next movie showing you can absolutely do no better than to purchase Monstrous I & II and have them playing when your guests begin to arrive. I'll use the words 'must have' here."
-- Cornerstone Magazine
"Gosh! Wow! These suites from classic science fiction thrillers will leap off your stereo speakers and grab you. From a technical standpoint, these recordings are flawless. The booklets are a history lesson in themselves."
-- Cult Movies
"This new recording of the Creature pretty much blows all previous rerecordings out of the water."
-- Letter to the editor from a satisfied customer. (Just so you don't think the only people who like our CDs are members of the press who get comps!)
"Editor's Choice - Best Compilation CD of the Month. [Creature From The Black Lagoon] is a real treasure and should be part of every film music lovers collection. Buy this CD!"
-- Film Music Review -- The Web Magazine
"Five stars [out of five]. Both these albums [Monstrous Movie Music and More Monstrous Movie Music] packed full of world premiere recordings are simply essential."
-- Film Music On The Web
"'Close-miking' has been successfully used to recapture the original sound of the scores. The 40-page booklet is full of detail, facts, and fun."
-- Fanfare
"You have liner notes that will take you at least 2 weeks to read and The Alligator People. What more could a fan of film music want! This CD is a must-have for any fan of fantasy films and really good top notch film music."
-- Cinema Concerto
"If you dig the scores for classic black-and-white monster flicks, you'll be in seventh heaven with this release [Creature From The Black Lagoon] from Monstrous Movie Music."
-- Soundtrack Review Central
"These are true gems and are presented faithfully, respectfully and, I would go even so far as to say, lovingly. The notes themselves are not only extremely erudite but also witty, displaying Schecter's other talents as a humorist."
-- Max Pemberton, Films In Review
"Eerily effective music from the classic 1954 Universal monster movie 'Creature From the Black Lagoon.' Exacting performances by the Radio Symphony Orchestra of Slovakia under the direction of Masatoshi Mitsumoto. A lavish 40-page booklet offers a wealth of historical and recording notes."
-- Minneapolis Star Tribune
"Monstrous Movie Music and More Monstrous Movie Music are dreams come true. Excellent liner notes."
-- Film Score Monthly
"This album will appeal to anyone interested in true film music, for its wonderful packaging alone, not to mention the consistent high quality of the music. From the wonderful nostalgic cover by Robert Aragon, to the pristine sound quality, one cannot go wrong with Monstrous Movie Music!"
-- Film Score Central
"Nails the 50's monster sound with panache and fury, taking you right back to those glorious drive-in monster days. Very entertaining liner notes, absolutely the last word when it comes to the Creature's music."
-- Venice
"Bravo! They're great!"
-- Chris Young, composer (Species, Hellraiser, The Fly II, Tales From The Hood)
"What a magnificent find [Monstrous Movie Music] is. Scores to classic sci-fi and horror movies from the 1950s done right. The results are amazing. Not to be overlooked are the extensive liner notes detailing the creative history of each track. This CD makes you want to check out these classic movies and watch them with a fresh perspective."
-- Soundtrack.net
"Der Hörer mit etwas klassischer Kinoerfahrung in Sachen B-Movies erkennt hier direkt die schwarz-weiße Welt der "billigen" Leinwandmonster der fünfziger Jahre und schmunzelt dabei wahrscheinlich. Die spürbar liebevoll und engagiert gemachten und mit aufwändig gestalteten Booklets versehenen CDs verdienen einen Bonus in der Bewertung für die – nicht zu unterschätzenden Bemühungen – des Produzententeams, derartige filmmusikalische Nischenprodukte überhaupt zugänglich zu machen: dafür gibt's 5 Sterne." (Well, at least we think this is a rave review. Unfortunately, we don't speak or read German, and this review of our first three CDs was written for a German film music site. But since each album got five out of six stars and the reviewer wrote about three pages on them, we assume he liked our discs a lot. Of course, there's always the possibility that in Germany they use a scoring system like in golf, meaning one star is the best...)
-- Cinemusic
[ADDENDUM TO ABOVE REVIEW: Doug Finton, one of our devoted fans, was kind enough to translate the German review for us! It reads: "The listener who has a bit of classical cinematic experience with regard to B-movies will immediately recognize the black & white world of the "cheap" screen monsters of the 50's, and most likely grin. The CD's - which have obviously been lovingly and enthusiastically produced and provided with painstakingly-crafted booklets - deserve a bonus in our evaluation for the efforts of the production team, which should not be underestimated, to make such "niche products" of film music available at all. For that reason, 5 stars." Thanks, Doug!]
"[Creature From The Black Lagoon] faithfully captures some incredible music 'from the old days.' My hat's off to the crew at MMM."
-- Another letter to the editor from a satisfied customer (Just in case you thought we only had one paying customer)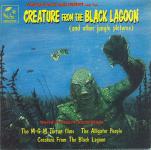 "[Monstrous Movie Music] is great stuff! Kudos to everyone involved in this magnificent production."
-- Science Fiction Weekly
"Truly magnificent. The sound is outrageous! The 32-page booklets that come with each CD are worth the price alone!"
-- SPFX
"Amazing! It's like having a time machine and being able to go back to the original scoring sessions!"
-- Bob Burns, renowned sci-fi expert
FEATURED ON NATIONAL PUBLIC RADIO, "STRANGE UNIVERSE," THE SCI-FI CHANNEL, AND IN "MIX" MAGAZINE.
IT TOOK A LOT TO CONVINCE ME,
BUT I'M FINALLY READY TO ORDER!
(TAKE ME TO THE ORDER PAGE RIGHT NOW!)
I CAN'T BELIEVE ALL THESE PHENOMENAL REVIEWS ARE TRUE,
SO I'LL HAVE TO READ THEM A SECOND TIME!
(TAKE ME BACK TO THE TOP)