THIS ISLAND EARTH (and other alien invasion films), contains world premiere music from four beloved outer space films of the 1950s and '60s. This Island Earth was Universal-International's only big-budget color sci-fi thriller of the fifties, and it's considered one of the classics of the genre.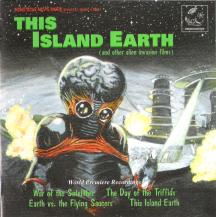 This unforgettable recording features the entire score by Herman Stein, with minor assistance from Henry Mancini and Hans Salter, and it includes music cut from the film and heard for the first time since the original scoring sessions. The music ranges from beautifully-evocative passages to mysteriously atmospheric cues, not to mention some amazingly-inventive musical effects sequences and cues of pure action and horror. This 1955 score was way ahead of its time!
Also on the CD is a 20-minute suite from Ron Goodwin's masterful The Day of the Triffids, a 1962 British film about killer plants (presumably) from space. Goodwin's music includes lovely pastoral cues, shock sequences, and one of the most powerful Main Titles in all of monsterdom! Shimmering strings, a plethora of woodwinds, an abundance of French horns, and a wide variety of percussion helps this unique score stand apart from most monster movie soundtracks. A wonderful listening experience!
The album also contains two Main Titles of note: 1958's War of the Satellites is Walter Greene's breakneck excursion that propels this Roger Corman quickee. And then there's the opening from Ray Harryhausen's 1956 special effects extravaganza Earth vs. the Flying Saucers, which perfectly sets the stage for the alien menace that will follow. This Daniele Amfitheatrof piece will revive memories in every person who grew up watching this sci-fi classic.
Like the previous Monstrous Movie Music CDs, THIS ISLAND EARTH has been vividly recorded through close-miking techniques to recapture the dynamic full-orchestral sound heard at the original Hollywood scoring sessions.
The state-of-the-art 40-page liner book features striking cover art by Robert Aragon, comes with never-before-released photos, copies of music manuscripts, and almost 20,000 words of text about the films, their scores, and the composers who wrote them. Not to mention enough humor to bring a Metaluna Mutant to its knees!
The liner book text includes timings that match the digital read-out on your CD player -- so you can follow along with the music while you read. You'll become a film music expert faster than you can ask, "Why do they pronounce it 'myoo TANT?'"