These large (8" x 5"), four-color, 50-sheet notepads are the perfect gift for the forgetful classic monster movie fan, especially considering you're getting older and more forgetful all the time. So order these before you forget! Each notepad comes with a cardboard backing and a Super-Powerful American magnet to hold them securely onto your refrigerator or pet robot!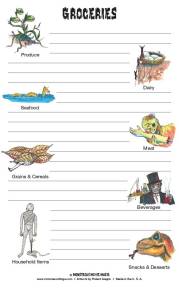 Printed on high-quality environmentally-friendly paper, these will easily be among the classiest notepads you've ever seen! In fact, they're so beautiful you might not want to write on them at all, but instead choose to frame the pads and continue jotting things down on the backs of receipts and old envelopes. Everything is manufactured in the good old U. S. A., meeting the "green" standards of the Forestry Stewardship Council (FSC).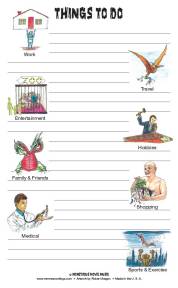 Each pad contains eight very funny visual gags lovingly illustrated by renowned artist Robert Aragon. Well, maybe only six of the eight gags are very funny, but let's see YOU try to think of something clever for some of these more obscure categories.
PLEASE NOTE: The sample pdfs are very low-resolution and covered with "Property of Monstrous Movie Music" notices only to prevent them from being printed for free via your computer. Not that we don't trust you, as our fans are among the most honest and ethical people in the entire world, but we definitely don't trust your friends, who might be thinking of giving these to you as presents! So we tried to make them as ugly as possible on our site, but know that the print quality of the actual pads is amazing!
Each pad costs $6.00. Shipping for one pad (they're HEAVY!) is $3.00, and shipping for two or more pads is $6.00. If you order more than two pads, we will refund you the additional shipping cost that Paypal automatically adds to your total because Paypal is not as intelligent as it should be. You will not end up paying more than $6.00 shipping.
If you have any questions, please don't hesitate to contact us.