Nicholas Carras
Born in Donora, Pennsylvania on January 31, 1922, Nicholas Sam Carastathis was the son of Greek parents who came from Samos, on the coast of the Aegean Sea. He began learning violin at the age of seven, and he studied in Europe until his family moved to Los Angeles. After participating in all of the musical events at Hollywood High, he attended Los Angeles City College, Washington & Lee University, and he studied violin, orchestration, composition, and conducting at the Los Angeles Conservatory of Music. He also played trumpet in the Army and learned piano. David Rose, who was one of his biggest influences, made him his protégé from 1951 to 1954, and he arranged, orchestrated, conducted, and composed for him. He also served in similar capacities with George Antheil.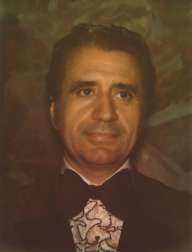 In 1959 Carras worked on the Broadway musical Happy Town, and then he was chosen by Loretta Young to be the musical director for The New Loretta Young Show. Carras did a lot of other composing, arranging, and conducting for television, including work on Barnaby Jones, Ben Casey, Cannon, Circus of the Stars, The F.B.I., The Fugitive, Lassie, True Adventures, and The Untouchables. Some of his motion picture scores were for Alex Joseph and His Wives, The Astro-Zombies, The Doll Squad, Dr. Sex, Dragstrip Riot, Female Jungle, Girl in Gold Boots, Honeymoon of Terror, Jungle Hell, Mr. Peter's Pets, Omega Syndrome, She Demons, Willy, and The Yin and the Yang of Mr. Go. Along with his brother, George Caras, Nicholas helped produce the juvenile delinquent films Date Bait and High School Caesar, for which he also composed the lively and effective scores.
Carras had a hand in a lot of different aspects of the music business, writing incidental music for theatre shows and revues. He arranged and recorded a wide variety of pop music for various music libraries, including his La Ronde Music production company, which supplied tracks to many Hollywood businesses. Never far from his Greek roots, he recorded a "Bouzouki Brass" album under the name "Nico Carras," and his final project was composing much of the score for Opa!, a new musical set on the Greek island of Elia that was co-written with and produced by his daughter Mari.
Carras was married for 41 years to Lois Ray Solloway, who began tap dancing when she was five, went on the road at fifteen, and eventually developed a solo act incorporating a look-alike marionette with matching costumes. She toured the world, performing with many entertainers, including Spike Jones, Dean Martin and Jerry Lewis, Johnny Carson, and Frank Sinatra. After the Carras family doubled because of the birth of twin daughters Niki and Mari, Lois pursued a second successful puppetry career entertaining children for 20 years the San Fernando Valley, with Nicholas supplying many of the voices. The couple lived together in their Sherman Oaks, California home for four decades.
Nicholas Carras loved talking politics and taking long walks. He also enjoyed big family meals and was an excellent cook, having been reared in the family's Greek diner in Chicago. He was a proud WWII Army veteran who served in the Pacific, he loved animals, and he rescued several dogs. He passed away on November 23, 2006.