Paul Dunlap
Paul Dunlap was born in Springfield, Ohio on July 19, 1919 and moved to Los Angeles when he was a boy. In love with music and sounds of all kinds at an early age, he developed an interest in composing and orchestrating before he was a teenager. He arranged music for nightclub big bands while still in high school, and studied classical music with Arnold Schoenberg, Ernst Toch (at UCLA), and Nadia Boulanger. After landing the job of scoring Samuel Fuller's The Baron of Arizona in 1950, Dunlap found himself steadily employed in Hollywood until the late 1960s.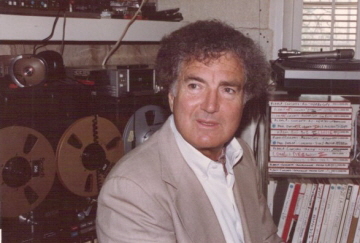 The composer worked with a lot of independent producers, writing for well over a hundred motion pictures, including The Angry Red Planet, Apache Warrior, Big House, U. S. A., Black Tuesday, Black Zoo, Blood of Dracula, The Crowning Experience, Cry Danger, Cry Vengeance, Dance With Me, Henry, Desire in the Dust, Destination Inner Space, Finger Man, Fort Yuma, The Four Skulls of Jonathan Drake, Frankenstein 1970, How to Make a Monster, I Was a Teenage Frankenstein, I Was a Teenage Werewolf, Invisible Invaders, Jack Slade, The Money Jungle, The Naked Kiss, The Outlaws Is Coming, Panic in the City, Park Row, The Quiet Gun, The Rebel Set, Shack Out on 101, Shield for Murder, Shock Corridor, The Steel Helmet, Stranger on Horseback, Target Earth, The Three Stooges in Orbit, The Three Stooges Meet Hercules, and The Wild Dakotas.
Dunlap also did some work for television, including Gunsmoke and Leave It to Beaver. He composed many classical pieces, a few being "Concerto for Piano and Jazz Band," "Ballet-Sonata for Piano," "Celebration (choral)," and a piano concerto. Dunlap had a studio in his home where he enjoyed working on a wide variety of pieces, including ones that used electronic effects and other experimental components.
Paul Dunlap was a well-read, learned man with many interests, but he was fanatical about classical music. He liked to laugh, he loved beautiful women, and he enjoyed good fish tacos. He died in Palm Springs, California on March 11, 2010.