Irving Gertz was born in Providence, Rhode Island on May 19, 1915, and studied with Wassili Leps at the Providence College Of Music. Gertz arranged an interview at Columbia Pictures in New York, where he convinced them he belonged in Hollywood. He was given a letter of introduction to Harry Cohn, and upon arriving in California, Irving began work in Columbia's Music Department.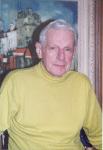 His Hollywood career was put on hold by World War II, where he served five years in the U. S. Army Signal Corps. Gertz returned to Columbia after the war, and in 1947 began composing for films, at which time he studied with both Mario Castelnuovo-Tedesco and Ernst Toch. Upon leaving Columbia, Gertz wrote for NBC Radio, supplying music for one-hour plays based on current motion pictures, and after receiving a call from Universal-International in the early 1950s, he worked consistently for that studio during the decade. He also served as composer and music director for many independent features, and in 1960 was hired by Twentieth Century-Fox, where he worked as a composer and music director for over twelve years. He left films to spend more time with his family, and presently lives in Southern California.
Although Irving is partial to his many western scores, he considers his science-fiction films to have been "exciting departures," His music has enhanced over 200 movies, including Abbott and Costello Meet the Mummy, The Alligator People, The Bandits Of Corsica, Bullet For A Badman, Cult Of The Cobra, The Deadly Mantis, The First Traveling Saleslady, Fluffy, Gun For A Coward, He Rides Tall, Hell Bent For Leather, Hell On Devil's Island, The Incredible Shrinking Man, Istanbul, It Came From Outer Space, Jungle Goddess, Last Of The Redmen, The Lone Gun, The Monolith Monsters, Nobody's Perfect, Overland Pacific, Raw Edge, Seven Ways From Sundown, Shark River, Smoke Signal, To Hell And Back, Wild Heritage, and The Wizard Of Baghdad.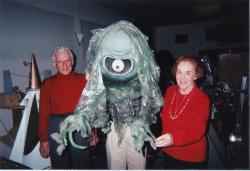 Among his many television series are Across The Seven Seas, America, Daniel Boone, The Invaders, Land Of The Giants, Peyton Place, and Voyage To The Bottom Of The Sea, and some of his concert works are "Boutade For Orchestra," "Leaves Of Grass," "Liberty! Liberte!," and "Salute To All Nations ." The composer passed away on November 14, 2008 in Los Angeles, where he lived with his wife Dorothy.
To hear a delightful cue Irving wrote for a British TV series, please click HERE.