Henry Mancini
Born in Cleveland, Ohio on April 16, 1924 and raised in West Aliquippa, Pennsylvania, Henry Mancini studied at New York's Juilliard School of Music. After WWII, he was hired as a pianist/arranger for Tex Beneke's Glenn Miller Orchestra, and in Hollywood he studied with Ernst Krenek and Mario Castelnuovo-Tedesco. Mancini wrote music for clubs and radio shows, including work for Bob Crosby, Buddy Rich, and David Rose.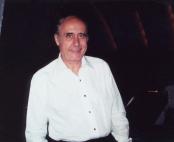 In 1952 he was hired by Universal-International, and for the next seven years he wrote at least partial scores for over 100 of the studio's films, among them Border River, Creature From The Black Lagoon, The Creature Walks Among Us, Damn Citizen, Flood Tide, Four Guns To The Border, The Golden Blade, The Great Impostor, It Came From Outer Space, Man Afraid, So This Is Paris, The Thing That Couldn't Die, The Tattered Dress, Touch Of Evil, Veils Of Bagdad, Voice In The Mirror, and Walking My Baby Back Home.
Mancini went on to compose a long line of classic film scores, including Breakfast At Tiffany's, Experiment In Terror, Hatari!, and The Pink Panther. His music also enriched television series such as Newhart, Peter Gunn, and Remington Steele, and just a few of his popular songs are "Days Of Wine And Roses," "Dear Heart," and "Moon River." Mancini won many Grammy Awards and Academy Awards, and released numerous popular records. He wrote a book on orchestration entitled "Sounds And Scores," and an autobiography, "Did They Mention The Music?" Mancini passed away in 1994.